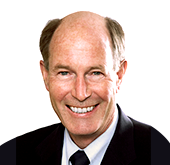 David A. Dodge OC
Bennett Jones LLP, Ottawa
Senior Advisor, Canada and International Economic Advisor
A native of Toronto, Mr. Dodge received a Bachelor's Degree (honours) from Queen's University and a PhD in Economics from Princeton. During his academic career, he taught economics at Queen's University, Johns Hopkins University, the University of British Columbia, and Simon Fraser University.
After serving in a number of increasingly senior positions at the Department of Finance, including that of G7 Deputy, he was Deputy Minister of Finance from 1992 to 1997 and Deputy Minister of Health from 1998 to 2001. Mr. Dodge, who was appointed Governor of the Bank of Canada in February 2001 for a term of seven years, retired in January 2008.
From 2008 to 2014 he was Chancellor of Queen's University, and a member of the boards of directors of Scotiabank, Canadian Utilities, and ATCO Limited. He is currently Senior Advisor at Bennett Jones, one of Canada's leading law firms, and is a member of the board of the Canadian Institute for Advanced Research, and Chair of the C.D. Howe Institute's National Council. In 2009, he was elected a Fellow of the Royal Society of Canada.